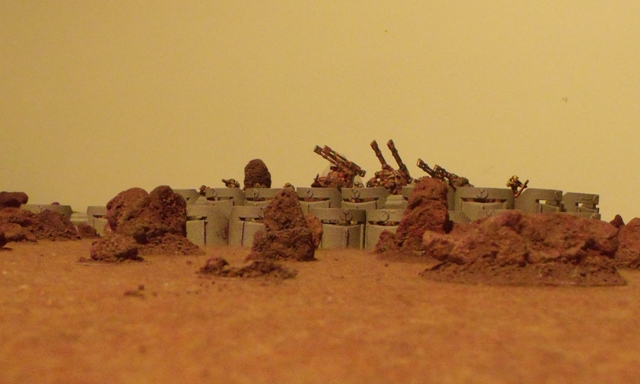 Sometimes you just need a little more cover than the table naturally provides. We wanted to be able to use a defense line for those occasions but it just doesn't feel right to recycle Imperial equipment for all armies.
Concept-wise, these barrier would be fabricated on the spot by combat engineers using mostly locally procured materials. A single engineer (assisted by a squad of construction drones) can easily emplace the self-inflating form-work. They then combine an expanding bonding agent with local sand or gravel to quickly create a cheap but durable fortification.
Step 1: Main Structure
We used a 2" PVC pipe for the main structure. The 2" dimension is inside diameter, so it's slightly larger than the real defense line is, but it's the closest size pipe we could find. We used a table saw to make all of the cuts in the PVC pipe; doing this with a saw is much easier than by hand! After cutting the pipe in half we then cut the corners off of the top side. The vision slit was cut by making a shallow cut, then the inside was beveled by an angled shallow cut. We only beveled the bottom edge so that there would be room on the top for a larger emblem.
Step 2: Draw it all together
The connecting piece was made from some architectural molding. The ends were cut using a hole saw of the same diameter as the PVC pipe. We use these to connect two of the main pieces together, making the double length We used a few match sticks to form the decorative ribs on the outside of the shields. We had originally planned to use something a little larger and fancier than the match sticks for the ribs. Unfortunately, the larger the ribs are the more they restrict how the pieces fit together.
Step 3: Add Your Emblem
To make the army specific emblem, we started with three sizes of paper punches, and some thin cardboard. The largest punch makes the basic shape of the emblem and the next size cuts the notch in it. You have to use a third slightly smaller one to make the small circle or the sides will touch when the parts are reassembled. Of course, if you want a different symbol, you'll have to get creative!